No Tarnishing. No Discoloration. No Worries!
Delta Brilliance finishes help keep your faucet or shower looking like new for life. Brilliance finishes are durable, long-lasting and guaranteed not to corrode, tarnish or discolor. Tested against more than 100 household cleaners, these scratch-resistant finishes can even withstand repeated scouring with steel wool.
---
Products Featuring Brilliance Finishes
Click below to browse products with Brilliance Finishes
Product Reviews
MANDARA 24" TOWEL BARS
Purchased 2 of these towel bars for our basement bathroom remodel which was done last spring. We purchased them from the big box hardware store with the orange letters. We liked the Brilliance Nickel finish and the ease of installation. We do not like that the bar itself turns rather than locks into place with the side clamps.
PERFECT FOR A BATHROOM REMODEL!!
Purchased this at a big box hardware store with the orange letters for a basement bathroom remodel we did last spring. We previously had a lavatory with a Delta chrome faucet and the 4" center was difficult for my DH to use. We went with an 8" center in the Brilliance Stainless finish. This works very nicely and cleans up well with no water spots showing on the finish.
PERFECT FOR SITTING OR STANDING IN SHOWER!
Purchased last year as part of a basement bathroom remodel in the Brilliance Stainless finish. My husband needs to sit in the shower and this slide bar works very easily to adjust for people sitting or standing in the shower. The finish is great as it shows no water spots (a very important thing for us in terms of maintenance and cleaning). This was professionally installed by the plumber doing the construction. We are both pleased with this product.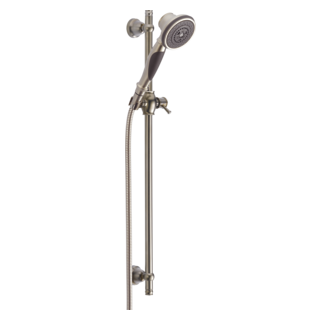 Delta
Premium 3-Setting Slide Bar Hand Shower